Commencement honors Kansas Citians Karen Daniel, Dave Cummings, Leo Morton
---
09/01/2020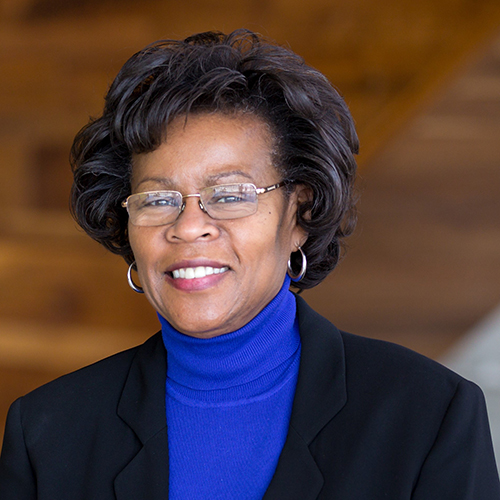 Karen Daniel, retired executive director, chief financial officer and president of the Global Finance & Technology Solutions division for Black & Veatch, will be the main speaker at the 2020 William Jewell Commencement ceremony at 9 a.m. on Saturday, Sept. 12, at Greene Stadium on the campus in Liberty, Mo. The event is open to ticketholders and will be streamed at youtu.be/SVMfz_8x2eM.
As part of Jewell's commencement traditions, graduates will make the ceremonial last walk around the Quad at 8:45 a.m. The student speaker, chosen by the senior class, will be Jeremy Hofman, graduating magna cum laude with three majors in Oxbridge Institutions and Policy, economics, and Applied Critical Thought and Inquiry. He's currently a student at the Washington University School of Law in St. Louis with a full tuition scholarship.
Karen Daniel earned a bachelor's and a master's degree in accounting and is passionate about ensuring affordable education for all. She has served in many civic roles, including a board member for Commerce Bancshares, Snap-on Incorporated, Livongo Health, Blue Cross and Blue Shield of Kansas City, Greater Kansas City Chamber of Commerce and Greater Kansas City Community Foundation. In 2015, Daniel was vice chair for President Obama's Advisory Board on Doing Business in Africa. She was honored by William Jewell College in 2018 with the William F. Yates Medallion for Distinguished Service.
Honorary Doctorates
Dave Cummings will receive an Honorary Doctorate of Business. The chairman and CEO of Tradebot Systems and Tradebot Ventures is a pioneer in high frequency trading. He started Tradebot in 1999 using computer algorithms to provide liquidity to the stock market. Now, Tradebot is one of the biggest high frequency traders in the world and some days accounts for up to 5 percent of the total U.S. stock market volume. In 2008, Cummings started Tradebot Ventures to help Kansas City build the next generation of high-growth technology companies. He is also the founder and former CEO of BATS Trading, which grew to become one of the three largest stock markets in America, providing competition to NASDAQ and NYSE. BATS was acquired by CBOE Holdings Inc. in 2017 for approximately $3.4 billion. He holds a degree in computer and electrical engineering from Purdue University.
Leo Morton will be presented an Honorary Doctorate of Humane Letters. He was appointed president and chief operating officer of DeBruce Companies in 2017 and previously served as chancellor of University of Missouri-Kansas City for more than nine years. His management career has spanned 40 years in a wide range of engineering and manufacturing positions with Aquila, AT&T Microelectronics, Bell Laboratories, General Motors, Rust Engineering Co. and Corning Glass. He has a bachelor's degree in mechanical engineering from Tuskegee University and a master's degree in management from Massachusetts Institute of Technology. Morton serves on a number of boards, including The DeBruce Foundation, Union Station, Marion and Henry Bloch Family Foundation, American Public Square at Jewell, Prep-KC, Behavioral Health Holdings, LTA Manufacturing, H&R Block Foundation and the Kansas City Urban Youth Academy.