Athletic Hall of Fame
---
Jewell's Athletic Hall of Fame was established in 1994 to recognize outstanding achievement by alumni and/or faculty in the areas of athletic achievement or coaching, or other noteworthy accomplishments in athletic-related areas. The selection is based solely on what the individual or team accomplished while associated with Jewell.
Each year at Homecoming, honorees are recognized at halftime of the Cardinal football game, with the official induction ceremonies following that evening. Recent inductees are included below, or see an archive of all past inductees at jewellcardinals.com/honors/hall-of-fame. 
The 2021 Class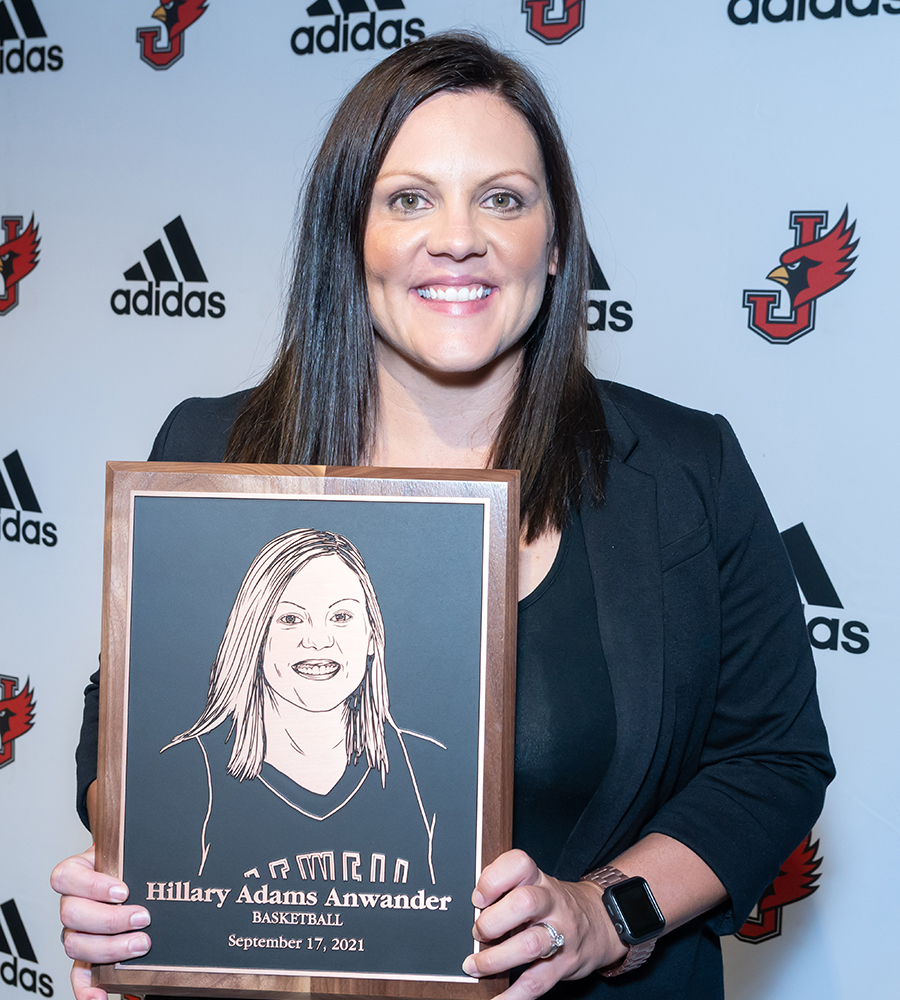 Hilary Adams Anwander, '10 - Women's Basketball
Hillary Adams was one of the best players to ever wear the Jewell uniform and was be inducted in her first year of eligibility. She is the only player in program history to be a four-time NAIA All-American, earning honorable mention honors following each of her seasons while also being selected to the All-Heart of America Conference First Team four times. For her career she scored 2,028 points, which is still second on the Cardinals all-time list, while her 305 assists are seventh. Additionally, she made 359 three-point field goals and 505 free throws on better than an 84% average while scoring in double figures in 108 of 134 games played. She book ended her career with regular season conference championships in 2007 and 2010 while also winning two tournament titles and leading the Cardinals to four straight NAIA National Tournament appearances and an overall record of 100-35. As a junior in 2009, Adams led the nation with 115 three-point field goals on a 44.9% clip which ranked second in NAIA-I. She was also 25th nationally in scoring and sixth in free throw percentage. She was the 2010 recipient of the Vicki Larason Landman Award for William Jewell Female Athlete of the Year and was a four-time NAIA Scholar-Athlete and Heart of America Scholar-Athlete.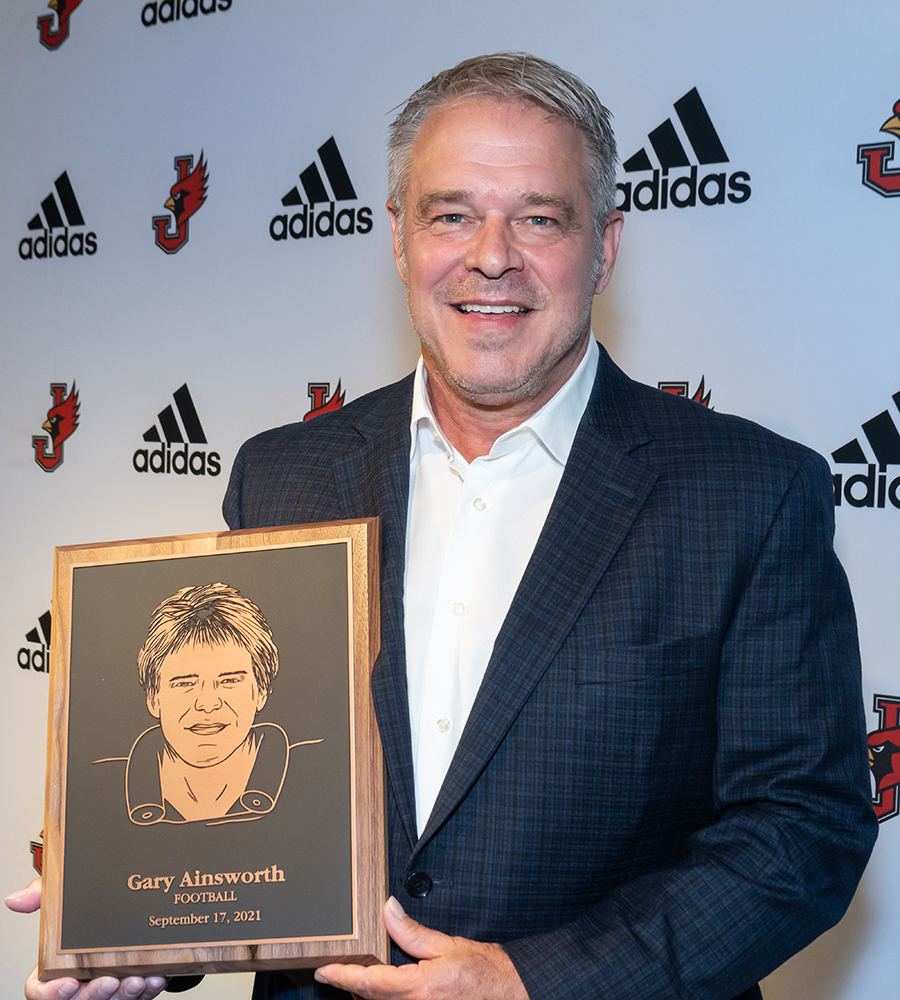 Gary Ainsworth, '82 - Football
Gary Ainsworth was a key member of some of the greatest football teams in Jewell history in the early 1980s. A four-year starter at linebacker, he was twice the defensive captain. During his career he was a four-time All-Heart of America Conference and NAIA District 16 All-Star selection, including two first team honors. Additionally, he was twice named to the NAIA Division II All-America team, earning second team honors in his final season after an honorable mention nod the previous year. As a senior in the fall of 1981, he was named the Defensive Most Valuable Player by the Jewell coaching staff and All-America Honorable Mention by the Associated Press. Over his final two seasons alone, he posted 246 tackles, 18 tackles-for-loss, three interceptions, and 10 pass breakups as the Cardinals went 21-2-1 with their only losses coming in back-to-back national semifinals. Ainsworth's 136 tackles in 1980 is sixth in a single season at Jewell while his 110 takedowns the following year is tied for 16th. He led the Cardinals through some of the best years in program history, going 36-7-1 during his career with three conference championships, two undefeated regular seasons, one bowl game and two NAIA National Semifinal appearances.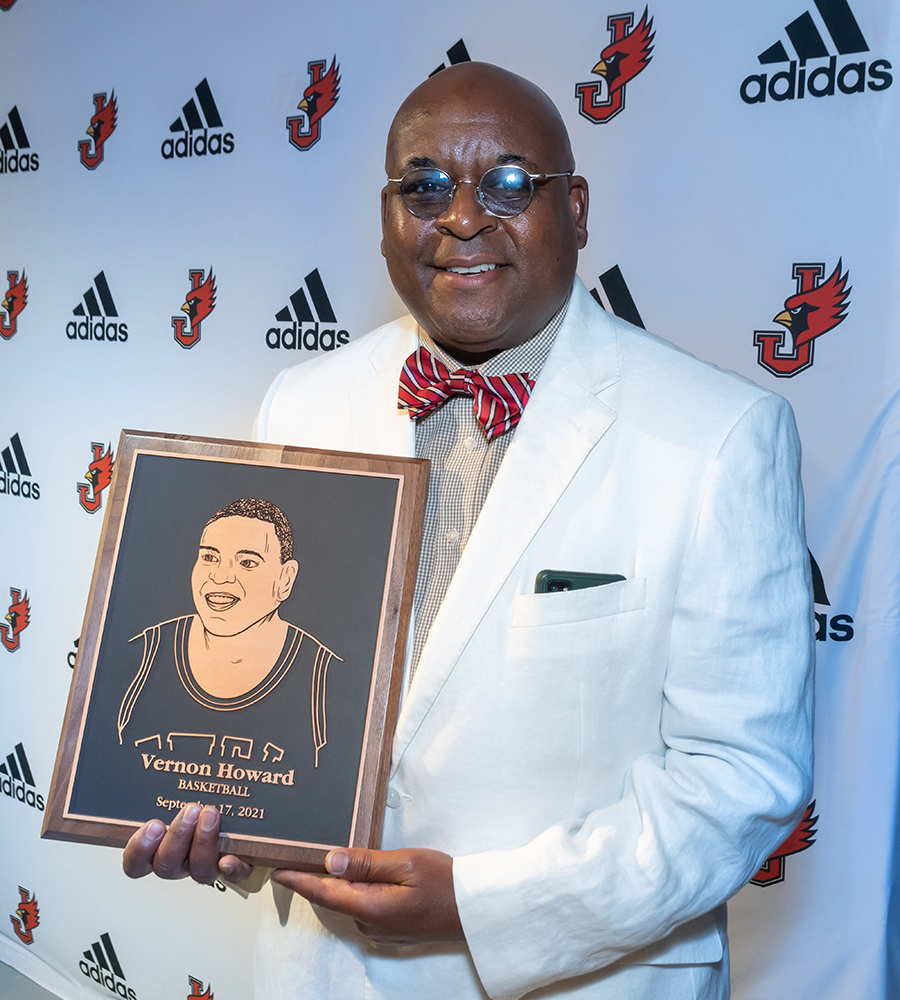 Vernon Howard, '86 - Basketball
Vernon Howard spent just two years on The Hill after transferring from Southwestern College (Kan.), but is still one of the most celebrated players in program history. A two-time first team All-Heart of America Conference selection he was named the Player of the Year in 1985, while also earning two All-District First Team honors. Additionally, he was named a Kansas City Classic All-Star twice, with Most Valuable Player honors coming during his junior season. He twice led the Cardinals in assists and steals while helping Jewell to back-to-back conference championships, including just the second perfect conference season (14-0) in league history in 1986. The Cardinals were 50-11 during his two-year career, including 26-2 in conference play and a perfect 31-0 at home. Today he still ranks in the top 10 in single season assists (T9th), steals (T10th) and minutes played (9th) as well as career assists per game (6th), steals per game (3rd) and minutes per game (4th).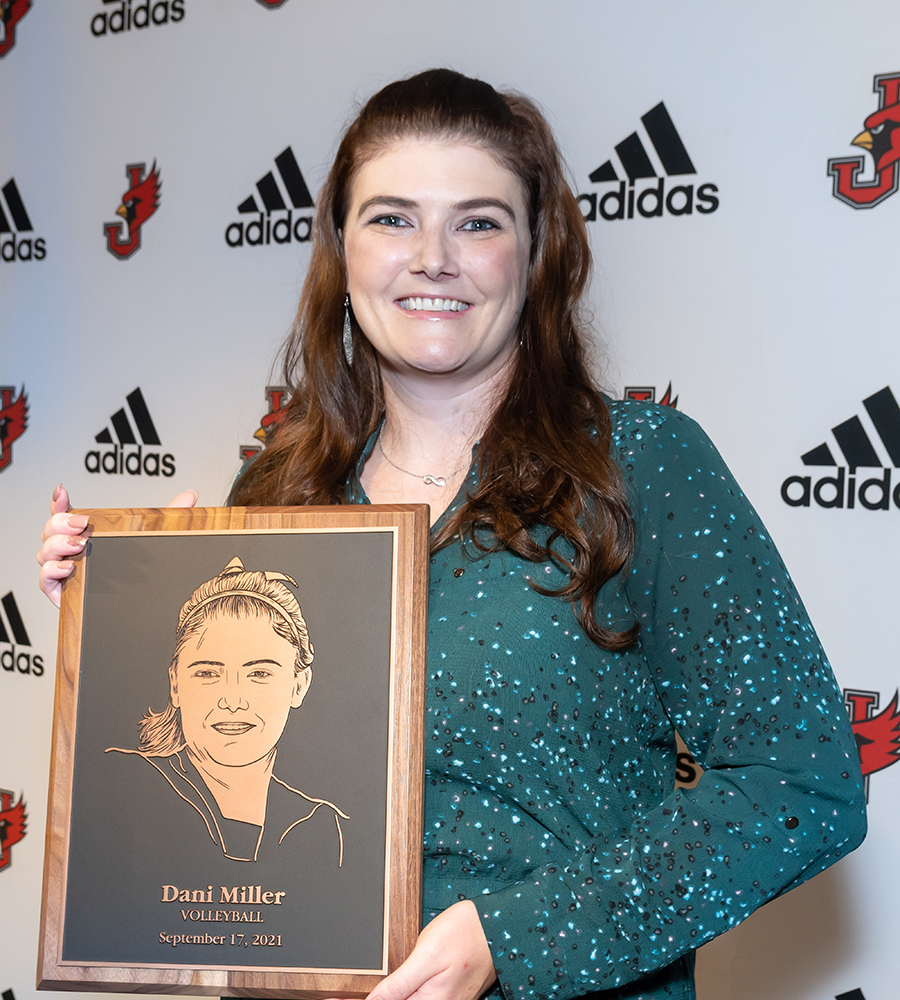 Dani Miller, '09 - Volleyball
The first true volleyball inductee into the Hall of Fame, Dani Miller was the first player in program history to earn All-America honors, being selected to the second team by the American Volleyball Coaches Association and third team by the NAIA as a senior in the fall of 2008. A three-time All-Heart of America Conference First Team selection, and four-time honoree overall, she is the Cardinals all-time leader with 1,735 kills and led the Cardinals to a conference title in 2006. She was named to nine All-Tournament Teams throughout her career with six HAAC Player of the Week selections while leading the league in aces three times. As a senior she shined, earning nods as the conference Player of the Year, AVCA All-Midwest Region and was the recipient of the 2009 Vicki Larason Landman Award for Female Athlete of the Year.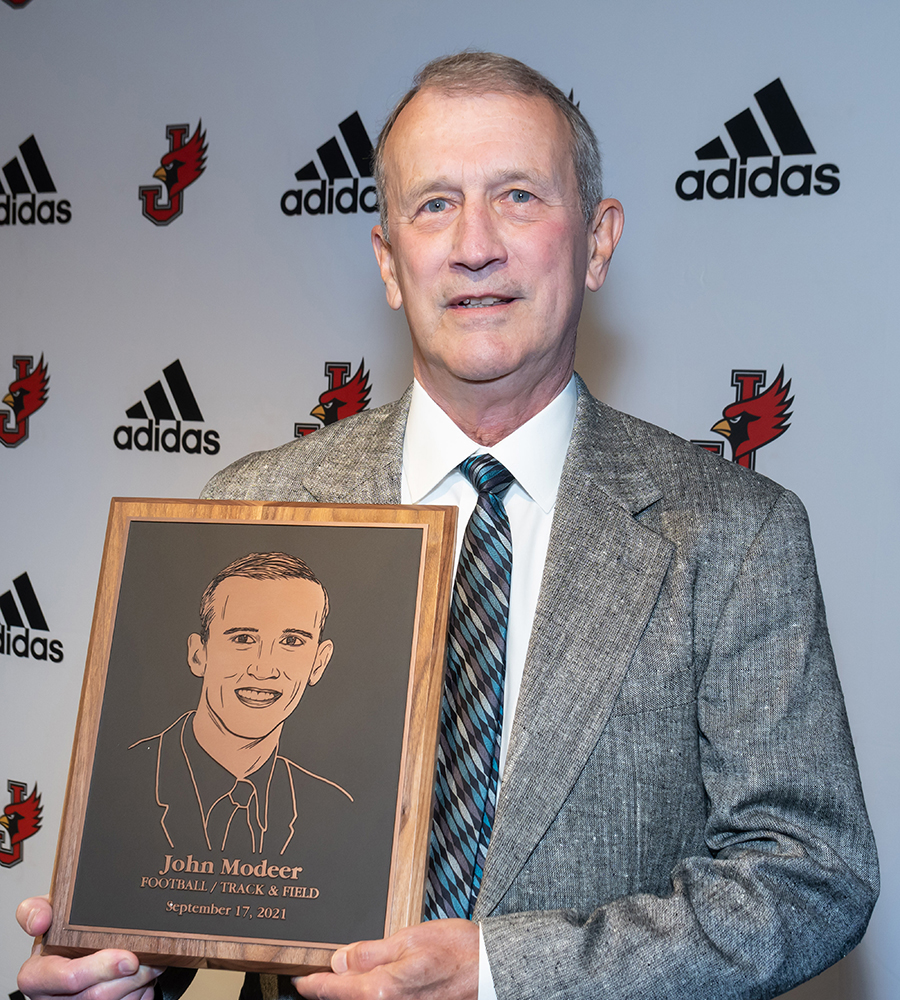 John Modeer, '68 - Football, Track & Field
A two-sport standout, John Modeer earned eight varsity letters during his career. On the football field, he started nearly every game and was named All-Missouri Collegiate Athletic Union and NAIA All-District 16 as a senior in the fall of 1967. During that same year he led the Cardinals to their first undefeated season at 10-0-1 and a fourth straight conference championship. On the track he was a three-time MCAU champion, twice in the 330-yard intermediate hurdles and once in the 60-yard low hurdles. He set the school record in the 330-yard hurdles with a time of 40.9 seconds and led the Cardinals to the team championship in 1965. He was awarded the Cecil Martin Award in 1968.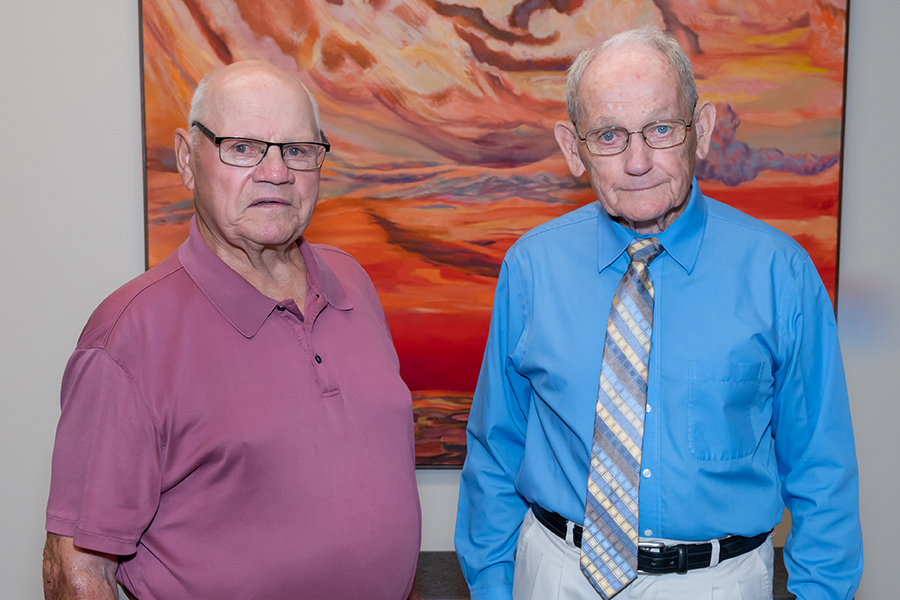 1952 Football Team
The 1952 football team went 10-1-1 overall to finish second in the Missouri Collegiate Athletic Union. Along the way this Cardinal team, captained by Laurel Hobick and Tom Cook, led the NAIA with 345 rushing yards per game, including an 85-yard touchdown run against Baker by freshman Don Jackson. The Cardinals were aided by the transfer of Al Conway who was a first team All-Conference selection and an all-around star on the offensive side, posting 1,325 rushing yards, 379 yards through the air, and 270 receiving yards while leading the nation in scoring. Conway went on to become the No. 1 draft pick by the Philadelphia Eagles and was inducted into the NAIA Hall of Fame in 1978. Additionally, Jim Happy scored 91 points on eight touchdowns and 43-of-50 point after attempts while Fred Merrell set an NAIA record with a 55-yard field goal, which still stands atop Jewell's single-game list today, more than a half century later.
Team Members: Don Allcorn, Warren Baker, Joe Barber, Dave Bayert, Ron Bell, Art Bergman, Joe Borbour, J.D. Boschert, Don Bowen, Rex Boyer, Edgar Brock, Coy Brown, Lew Carpenter, George Carter, Earl Cecil, Bob Clem, Jim Colin, John Connor, Al Conway, Tom Cook, Howard Cooper, John Crockett, Bob Crouse, John DeMint, Gil Divelbiss, Harold Doubledee, Bob Fisher, Earl Forderhouse, Dick Foster, Don Fowler, Don Garretson, Dave Gaumer, Dan Golden, Dean Goodwin, Jerry Hampton, Paul Hampton, Jim Happy, George Hasky, Don Haynes, Heinman, Laurel Hobick, Ray Hogue, John Houston, Jerry Hudder, Don Jackson, John Jackson, Clarence Jenkins, Paul Lambert, George Lanham, Charles Loomis, Frank Luzenske, Ron Mason, Milton McBride, Harold McGuire, Fred Merrell, Bill Miller, Bob Neighbor, Bobby Nield, Bud O'Dell, Dave Plymire, Munro Ransdell, Jack Schwarzel, Paul Sellers, Bill Simpson, Fred Smith, Bill Strawn, Garland Strother, Dick Treat, Bob Unverferth, Bill Vanderlaag, Don Welch, Bill Wilson, John Youngblood, Earl Yuille
Staff: Norris Patterson (Head Coach), Jim Nelson (Assistant Coach), Bob Gadt (Assistant Coach), Buckshot Carroll (Assistant Coach)
Managers: Marlin Moody, Bob Woodruff, Larry Zahnd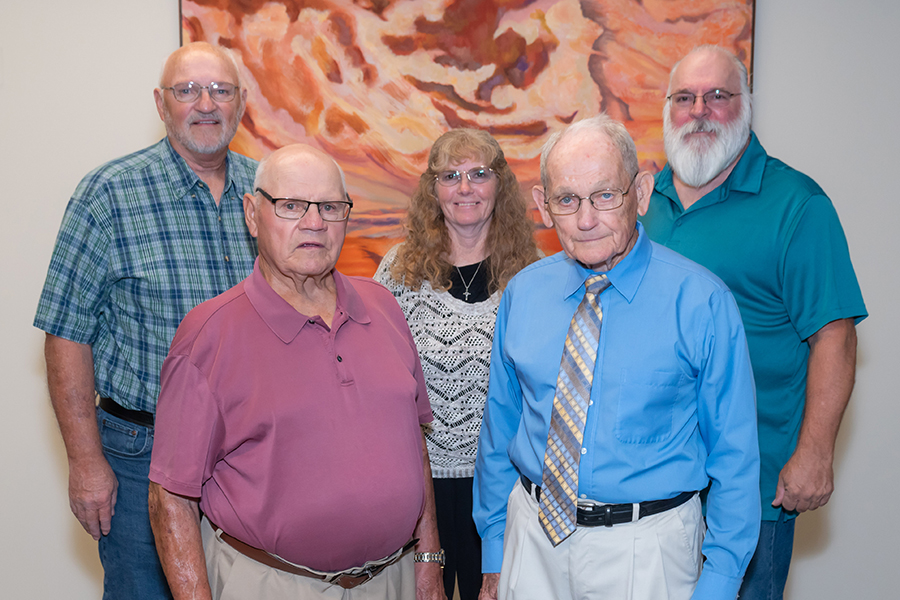 1953 Football Team
The 1953 football team went 9-1 and won the Missouri Collegiate Athletic Union title after a runner-up finish the previous season and featured All-Conference First Team performers, Laurel Hobick, Coy Brown, Bob Nield, and Dan Golden. The Cardinals ranked sixth in the NAIA with 387 yards of total offense per game and boasted five players who rushed for at least 400 yards, including Al Ericson's 587. After snapping rival Missouri Valley's 55-game win streak in 1950, Jewell once again soured things for the Vikings as the Cardinals got a field goal from Ericson with six seconds remaining to hand Missouri Valley their first home loss in 14 years, 16-14, after which the Jewell students tore down the goal posts.
Team Members: Jesse Baird, Joe Barbour, Dwayne Bell, Ron Bell, Art Bergman, Tom Blum, Jim Bonuchi, Vic Bonuchi, Don Bowen, Rex Boyer, Bob Brown, Coy Brown, Dick Burns, Ray Burris, Larry Butler, Lew Carpenter, George Carter, Earl Cecil, C.W. Clevenger, Tom Cowling, Clarence Cox, John Crockett, Joe Crouthers, Gil Divelbiss, Harold Doubledee, Larry Dunphy, Gladden Dye, Hoyt Elrod, Al Ericson, Jim Fallman, Bob Fisher, Dick Foster, Don Foster, Don Fowler, Ben Gardner, Dan Golden, Dean Goodwin, Jerry Hampton, Don Haynes, Jim Hill, Paul Hirsch, Laurel Hobick, Jerry Hudder, Don Jackson, John Jackson, Allen Jenkins, Don Kincaid, Marvin Kinnett, George Lanham, Audrey Leigh, Jim Lewis, Jordan Lindsay, Charles Loomis, Frank Luzenske, B. Maher, Ron Mason, Jack Mathes, Ken McIntyre, Phil Meagher, Fred Merrell, Bill Miller, Frank Miller, Phil Miller, Bobby Nield, Edwin Parks, Ed Payne, John Philpot, Dave Plymire, Fred Pryor, Del Ranney, Floyd Reed, Ron Richmond, Charles Rowe, Ed Sayles, Ollie Schroeder, Gary Sivils, Carl Smarr, Fred Starnes, Bill Strawn, Dean Stuart, Bob Unverferth, Larry Voge, Bob Warren, Bob Younger, Earl Yuille
Staff: Norris Patterson (Head Coach), Jim Nelson (Assistant Coach), Jim Colin (Assistant Coach)
Managers: Lyle Boyles, Howard Cooper, John Fitzgerald, Tom Hendren, Marlin Moody, Bill Wilson, Larry Zahnd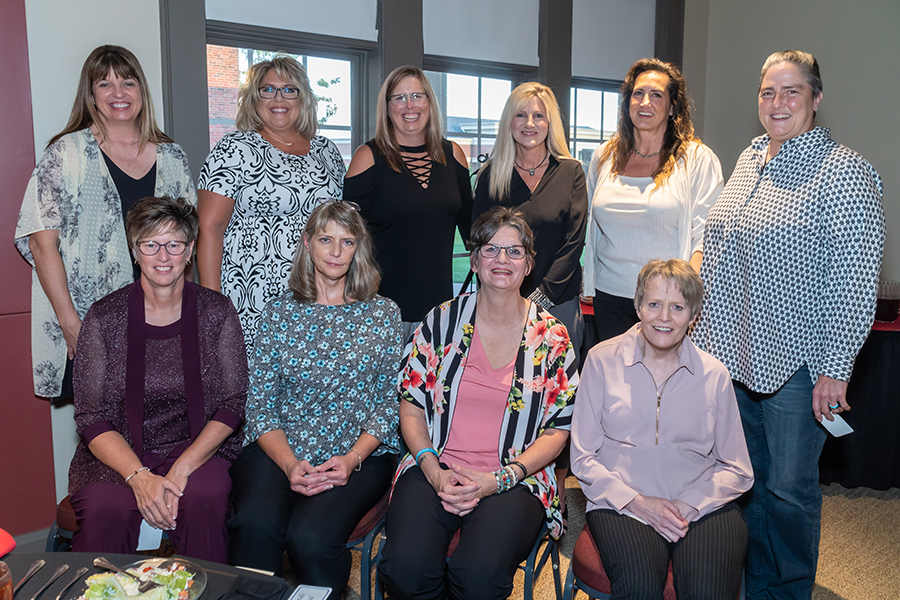 1987 Women's Basketball
The 1987 women's basketball team went 22-4 overall and won the first conference championship in program history, after starting the season 15-1. This team was coached by Jim Nelson and included All-Conference performers Susan Lymer, Sarabeth Rhodes and Jody Rounkles who led the team in scoring, rebounding, and assists. As a team, the Cardinals poured in 78.1 points per game and shot an impressive 46.3% from the field while holding their opponents to less than 67 points per night. 
Team Members: Jill Graham, Paula Hammock, Robin Imhoff, Susan Lymer, Deirdre McClendon, Suzie McLinden, Sheryl Meyer, Dana Miller, Teresa Newton, Melissa Patton, Shana Pelts, Debbie Pilcher, Laurie Price, Sonya Rank, Sarabeth Rhodes, Jody Rounkles, Jennifer Thornhill, Evelyn Tidwell, Sandi Wells, Robin West, Julia Wood
Staff: Jim Nelson (Head Coach), Kay Kovar (Assistant Coach)
Managers: Kevin Hudson, Gayle Draper
Student Athletic Trainer: Brian Wood