Leadership and Mission
---
William Jewell College is governed by a Board of Trustees, with day-to-day oversight by the president and members of the cabinet. Our leadership groups work closely together, planning for the future of the College and securing Jewell's vision.
Our Mission
We educate our community to ask reflective questions, apply critical thought and act with purpose.
Our Values
We flourish by valuing:
Authentic Engagement
Courageous Citizenship
Creative Expression
Inclusive Communities
Innovative Thought
Spiritual Exploration
Strategic Plan
Jewell's Leadership team outlined its vision for the College in this Strategic Plan 2023.
 
President Elizabeth MacLeod Walls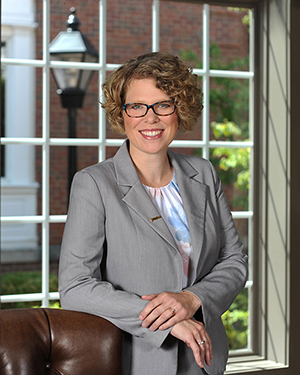 Before joining Jewell in 2016, Dr. MacLeod Walls served in academic and senior leadership roles at Nebraska Wesleyan University and Bryan College of Health Sciences in Lincoln, Neb. She earned her Ph.D. in English Literature and Classical Rhetoric (highest distinction) from TCU and her Bachelor of Arts degree in English and History (Phi Beta Kappa) at Hiram College. Passionate about the intersections among literature, history, rhetoric and women's writing, she is the co-author of three books and several refereed articles on women's writing, British modernism and rhetoric.
She also is an alumna of numerous higher education leadership programs, including the Harvard New Presidents Program, the Harvard Management and Leadership in Education Program, ACE Women's Leadership Program and the Lilly Family School of Philanthropy Programs.
Vested in the Community and the Arts
President MacLeod Walls is passionate about Liberty and Kansas City and believes Jewell is blessed to be a part of such thriving communities. She is active in a number of civic organizations, including the KC Rising Steering Committee; the Greater Kansas City Chamber of Commerce Board, as well as the Executive Women's Leadership Council and the CEO Roundtable sponsored by the Chamber; Kansas City Area Economic Development Council; Liberty Economic Development Council; and Liberty Chamber of Commerce. An accomplished musician, Dr. MacLeod Walls was pleased to have served as a Trustee on Lincoln's Symphony Orchestra Board and, now, to support the Harriman-Jewell Series, which is a flagship Kansas City performing arts program soon to be in its 54th season at William Jewell.
At Home on The Hill
A Clay County Historic Landmark built in 1904, the John Priest Greene President's Home has served as the family residence for many of Jewell's presidents, including Dr. MacLeod Walls and her family. She is blessed to be the mother of two sons, Alec and John Walls, and spouse to Rev. Dr. Craig MacLeod Walls.